Infinity Spec-Ops have no troop profile in the Army Lists; however, they are the perfect proxies to use in official Infinity tournaments. Infinity Spec-Ops have been created to use the Experience Rules in the Infinity Campaign System (ICS). Customize your trooper and improve it thanks to the experience acquired from the missions you play. It's a new and entertaining way to play Infinity. Don't miss it!
The jungles of Paradiso hide many secrets, but not as many as special operative Ko Dali, who could be the greatest traitor in human history, a victim of the human race's worst enemy, or even an alien imposter. Imperial Agent Adil Mehmut must find the truth about her and where the boundaries of betrayal are before the Combined Army unleashes all of its power to rescue her. This is the plot of the new graphic novel Infinity: Betrayal. Now you can also write your own story with this character set, which includes all of the protagonists from the graphic novel. This boxed set comes with Imperial Agent Adil Mehmut, Chief of Mecca-Engineers Cheong-Hee Jeong, Special Operative Ko Dali, and the fearsome Umbra Samaritan, Nourkias.
Monstruckers (Submachine Gun)
The Monstrucks, the colossal road trains that travel along the Sahm Highway, are fully automated vehicles. An autopilot and a cruise-control system guarantee the best efficiency and security on one of the straightest roads in the Human Sphere. However, the territory that this highway crosses, the desert of Taba, is a hell of sand and rock where any emergency could ruin these gigantic trucks and their valuable cargo. That's why the Monstruckers are necessary—to solve emergencies.
This blister includes a Monstrucker with Submachine Gun. Thanks to the Climbing Plus Special Skill, no obstacle can stop this Engineer. This mercenary Trooper will be a great addition to your NA2, Haqqislam, or Ramah Taskforce army list. 
Tartary Army Corps Action Pack
Tartary, the wild western region of Ariadna, is one of the most dangerous and hostile territories on the planet Dawn. Any force capable of controlling would be a formidable adversary to Ariadna's enemies. The Tartary Army Corps, or TAK, are self-established as a force that is constantly put to the test by its operating environment. It's a force that is always ready—in order to survive. The TAK is composed by experienced and professional soldiers who, after facing the horror of Tartaria, are used to not giving up—because the alternative would be death.
This box includes ten miniatures for Ariadna: 3 Line Kazaks with Rifle, 1 Tankhunter with AP Rifle, 1 Veteran Kazak with AP Rifle, 1 Scout with Boarding Shotgun, 1 Ratnik with Heavy Shotgun, 1 Strelok with T2 Marksman Rifle, 1 Frontovik Engineer with Light Rocket Launcher, and the brave hero Vassily with T2 Marksman Rifle. A complete 300-point army list, it's the best product to start playing and collecting an Ariadna force. 
Dire Foes Mission Pack Beta: Void Tango
What could possibly have kept Casanova, that handsome devil, away from parties at embassies and dragged him to a dump like Hlökk Station, a mining facility in the Brísingamen Asteroid Belt? What seemed like a no-brainer mission for O-12, investigating Minescorp's dirty laundry has turned out to be a Shasvastii covert operation. And Sargosh, the Jayth Tunnel-Crumbler, will not let Casanova thwart it, not even if some prospector gets in the way, no matter how pretty she is.
This box includes 3 miniatures: the NOC Operative Casanova, Sargosh, Tunnel-crumbler of the Jayth Cutthroats, and a Prospector, a freelance space miner. With this box, you can not only expand your collection of Infinity CodeOne miniatures, but you will get new options for your army—giving them personality with these two heroes—and also a neutral model to use in missions and scenarios.
ITS Season 11 Event Tournament Pack
The Event Pack: STAKEOUT allows you to organize a tournament set in a specific chapter of the history of Infinity, focusing on the point when the pressure exerted by the EI forces seem about to breach our defenses on the Paradiso front. The Event Pack: STAKEOUT is an exclusive pack where the units are limited while supplies last, so do not miss the opportunity to live this adventure!
This event pack is designed to work 100% by itself. You will find all the prizes necessary for your tournament, as well as including the entire contents of a Competition Pack, and if that isn't enough, it includes an incredible exclusive Jotum miniature, ideal for the winner tournament price, the great new release Ye Mao miniature as a second great prize, and much more stuff.
Competition pack
Exclusive Jotum (TAG) miniature
Exclusive Ye Mao miniature
2 Metal regular tokens
Exclusive Ye Mao patch
Exclusive Jotum patch
1 Jotum's Hammer keychain
1 Chibi Jotum anti-stress doll
Kaldstrom Colonial Settlement Scenery Pack
The scenery pack includes ready-to-play, double-sided, printed cardboard scenery (4 buildings, 4 Holoads, 2 public consoles, and 9 blast barriers), a game mat, and also cardboard markers, templates, and a measuring tool. It's everything you need to start playing!
The scenery packs offer the best quality-to-price ratio to get a game table that is quick and easy to build while also being visually appealing and functional. The modular system and the different textures of the double-sided printing provides great variety when combining different Kaldstrøm sets, avoiding repetition. It's the ideal complement to explore Svalarheima and to provide that extra cover your troopers always need.
Moonchild, Dogface Huntress
Moonchild, the fearless hybrid from Fort Apache 5—one of the most dangerous outposts in the Human Sphere—is a shapeshifter who, in moments of rage, transforms from Dogface to Dog-Warrior.
In the HexaDome, we have seen Moonchild fight in her Dog-Warrior form but now, by popular request, you can also find her in her Dogface form. This high-quality metal version of Moonchild offers an alternative design perfect for both players and collectors. 
AGL Event Kit Parvati Edition
This is a new pack to organize Aristeia! tournaments or leagues, with a great selection of prizes for the participants.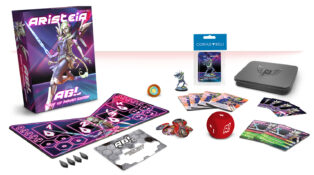 Aristeia!: AGL Event Kit Parvati Edition
Publisher: Corvus Belli
Item Code: CVBARI54
MSRP: $47.99
Releases October 23, 2020
Exclusive Parvati miniature

2 Exclusive character cards for Parvati
4 Parvati initiative cards with alt art
4 Advance Surgery Tactic cards with alt art
1 Neoprene Control Panel
1 Dice box
4 Initiative tokens
1 Winner pin
8 Random character pins
1 Anti-stress dice
1 AGL code (valid for both Tournament and League)
Pre-order with your PHD Account Manager today!