Ultimate Werewolf: Bonus Roles
More variety. More ways to protect the village. More great special abilities. More incredible combos. More ways to play Ultimate Werewolf than ever before.
Ultimate Werewolf: Bonus Roles contains over 45 unique roles and 2 new player items to keep your games compelling and fresh for moderators and players alike.
Ultimate Werewolf: Extreme
Ultimate Werewolf: Extreme is an interactive game of deduction who are divided into two teams: Villagers and Werewolves. The Villagers don't know who the Werewolves are, and the Werewolves are trying to remain undiscovered while they slowly eliminate the Villagers one at a time. A Moderator (who isn't on a team) runs the game.
Each game takes place over a series of game days and nights. Each day, the players discuss who among them is a Werewolf and vote out a player. Each night, the Werewolves choose a player to eliminate, while the Seer learns whether one player is a Werewolf. The game is over when either all the Villagers or all the Werewolves are eliminated.
Ultimate Werewolf: Extreme features incredible artwork, comprehensive rules, and a fantastic moderator score pad. What's more, it supports more players than any other game: up to 75 of your closest friends can converge on up to three simultaneous villages using the components in this box.
You've played Ultimate Werewolf countless times. You know the game and the roles inside and out. This is the expansion for you.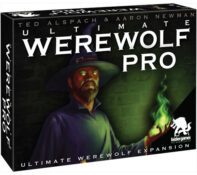 Ultimate Werewolf: Pro
Publisher: Bézier Games
Item Code: BEZUWPRO
MSRP: $14.95
Releases November 17, 2021
Ultimate Werewolf: Pro contains over fifty new carefully balanced roles, a new player item, and new Pro rules that will enhance games specifically for experienced players and moderators.
Warhammer 40,000 Roleplay: Wrath & Glory — Litanies of the Lost
Bathed in the corrupt light of the Great Rift, the Gilead System is rife with peril. Vile xenos assail humanity from all sides, internecine strife between the factions of the Imperium threaten a catastrophic civil war, and daemonic entities penetrate reality from Cicatrix Maledictum.
Discover devious plots and unravel murderous mysteries amongst feuding faiths on the agri world of Ostia. Investigate tech heresy, mechanical misdemeanors, and arcane rituals amongst the manufactora of the forge world Avachrus. Protect the holy shrine world of Enoch from enemies without, and traitors within.
Litanies of the Lost contains four exciting scenarios suitable for Wrath & Glory characters of Tiers 1 and 2. These can be played as entertaining stand-alone adventures, or combined into a perilous planet-hopping campaign that highlights the political strife and myriad dangers present in the Gilead System.
Steampunk Clockwork Nautical Apparatus Dice
Color meets style, and style meets endless role and game playing. These teal-colored dice are sure to add to any of your games requiring dice. It's all in the roll.
The Witcher 7-Die Set
Publisher: Q-Workshop
Item Code: (see left)
MSRP: $23
Releases Nov. 17, 2021
This beautiful yet strong dice bag will help keep your dice safe and ready for your next role-playing game. The remarkable artwork on the outside will let you know quickly whose bag it is and who came to play.
The Witcher Dice Bag
Publisher: Q-Workshop
Item Code: (see left)
MSRP: $15
Releases November 17, 2021
Pre-order with your PHD Account Manager today!