Disney Sorcerer's Arena: Epic Alliances — Thrills and Chills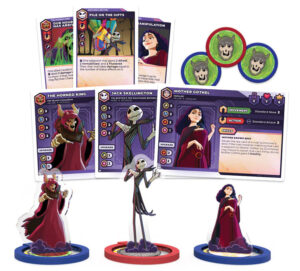 Take your combat skills in Disney Sorcerer's Arena: Epic Alliances to all new levels with the Thrills and Chills expansion pack! Jack Skellington, The Horned King, and Mother Gothel wield new attacks and abilities true to their twisted characters to bring fright and might to the Arena's already epic battles. Disney Sorcerer's Arena: Epic Alliances is the ultimate PvP tabletop game for Disney and Pixar fans and gamers where players can build teams out of Disney and Pixar heroes and villains and compete in an expandable, learn-as-you-go, battle-arena game.
3 Acrylic Standee Figures with Bases
3 Character Ability Cards
3 Character Decks (10 cards per deck)
3 Character Turn Tokens
9 Status Effect Tokens
3 Cauldron Born Tokens
Rules
Serve up a new way to enjoy your favorite dink mix with Jenga: Kool-Aid! This intense twist on the classic stacking game challenges players to reposition Cherry-, Lemonade-, and Grape-colored blocks based on the roll of a custom die—but make way for the Kool-Aid Man! The nostalgic smiling pitcher inches closer to breaking through your thirst-quenching tower with every move. Balance and build extreme heights of flavor before he gets the chance to topple it!
Avatar The Last Airbender: Fire Nation Rising
Are you brave enough to face Lord Ozai? The Fire Nation is primed to claim victory in the Hundred Year War against element bending Avatar Aang and fellow heroes Katara, Sokka, Toph, and Zuko. In this cooperative card and dice game, players must work together to recruit other Heroes from the four nations and battle a variety of Villains leading up to the Day of the Black Sun.
Following the eclipse, three Final Battles must be won by the Heroes in order to succeed in restoring balance to the world! Based on the critically acclaimed Nickelodeon animated series, this latest addition to The Op's Rising light strategy card and dice game series features a one-of-a-kind, full color Lord Ozai sculpt in the center of the action.
15 Fire Nation Cards
16 Hero Dice
1 Lord Ozai Sculpt
1 Map Board
1 Ruin Track Card
5 Balance Track Cards
2 Balance and Ruin Track Markers
5 Team Tokens
5 Team Cards
30 Pai Sho Tokens
3 Final Battle Cards
60 Damage Counters
53 Character Cards
Rules
Refuel in between missions with this comforting take on America's #1 dice game! Join your favorite ninja from the long-running anime with Yahtzee: Naruto Shippuden, and savor victory right out of a custom ramen-bowl dice cup. Roll dice featuring the ingredients of his cherished Miso Chashu Pork soup to get the highest-scoring combinations for a fast and gratifying win!
| | | |
| --- | --- | --- |
| Code | Description | MSRP |
| USOAC150731 | The Dragon Prince Premium Dice Set | $14.99 |
| USOAC011776 | Marvel Black Panther Premium Dice Set | $14.99 |
| USOAC011079 | Marvel Spider-Man Premium d20 | $9.99 |
| USODI004261 | Disney Nightmare Before Christmas Roulette Dice Tray | $29.99 |
| USOUP075296 | Loteria: Hello Kitty | $19.99 |
Pre-order with your PHD Account Manager today!