SolForge Fusion has been delayed to October 27 due to logistical hindrances.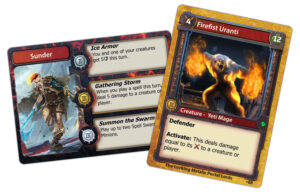 From Richard Garfield, creator of Magic: The Gathering, and Justin Gary, creator of the Ascension Deckbuilding Game, comes SolForge Fusion, the next evolution in trading card games. Experience the first ever Hybrid Card Game with over 15,000 cards in the base set alone!
In SolForge Fusion, all decks are algorithmically generated so no two decks are alike. Then you take two decks and shuffle them together to battle!
You and your opponent compete in strategic, lane-based combat. When you play a card, it levels up, allowing you to access new powers and abilities to defeat your opponent and damage their creatures. The first player to bring their opponent down to zero health wins!
This revolutionary new game will be supported by a robust tournament and organized-play program, but if you prefer remote play, you'll also be able to scan your physical deck into the official database and play online in sanctioned events.
Starter Kit Contents: 4 Unique Half-Decks (128 cards), 12 Minion cards, 25 mini tracker cards, 2 paper playmats
The SolForge Fusion Booster Kit is a reimagining of the traditional booster pack. Each Booster Kit contains four one-of-a-kind faction half-decks These four half-decks can be also be recombined to create up to six different playable decks. Combine with a player's current collection for limitless
permutations. Each booster kit includes enough cards for two players to create new decks.
Booster Kit Contents: 4 Unique Half-Decks (128 cards)
The SolForge Fusion Premium Playmat provides the best experience for play and competition.  It helps protect players' cards when being moved or lifted during games, it adds easy-to-understand card locations to support new players and improve tournament play, and it adds durability to an integral part of the SolForge Fusion experience. This playmat provides a visual landscape that helps tell the story of SolForge Fusion.
Pre-order with your PHD Account Manager today!