Doctor Who RPG 2E: Starter Set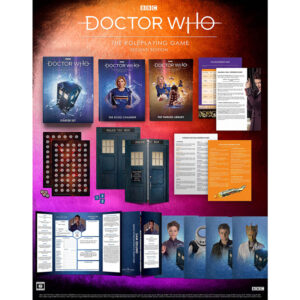 Doctor Who: The Roleplaying Game Starter Set contains everything you need to start your adventures across all of space and time. Whether you're a complete beginner at roleplaying games or looking for an epic new campaign, this boxed set is the perfect starting point for anyone wanting to experience the vast universe of Doctor Who.
"The Timeless Library" is a brand new adventure for players of all experience levels. It sends a group of new and varied companions on a journey to a vast library filled with dangerous artefacts and even more dangerous invaders. The story continues in the epic campaign "The Echo Chamber" and a quest to recover The Hermit's Lantern, providing new and established characters a wealth of adventure that will take them to surprising new worlds.
Warhammer Fantasy Roleplay: The Imperial Zoo
The Imperial Zoo is a bestiary and travelogue of three daring expeditions into the Old World, ranging from the heights of Karak Kadrin to the city of Miragliano in the southern land of Tilea. It includes profiles for over 60 unique creatures, beasts, and monsters of the Old World perfect to challenge even the most competent of adventurers. Also included are six new pregenerated characters, each with their own skills, talents, and shady past—perfect to pick up and dive into a campaign focused on the truly mammoth threats that stalk the Old World.
The Imperial Zoo Collector's Edition is designed to be as in-universe as possible, with a faux-leather cover, embossed details, spot UV to highlight even more detail and texture, and a gold foil stamp that would make the finest print presses in Altdorf proud. The spine of the book is rounded with raised hubs, and the paper edges are deckled, giving them a distressed look reminiscent of the sort of dusty tomes one might hide in the attic from prowling witch hunters.
Holiday Hijinks 6: The Groundhog Gambit
The Groundhog Gambit, title #6 in the Holiday Hijinks line, is an 18-card escape-room experience for one or more players, and it takes two sessions of about 60 minutes to solve cooperatively. Puzzles may test your perception, wordplay, and lateral thinking. English-language fluency is required.
Unmatched: Houdini vs. The Genie
Unmatched is a highly asymmetrical miniature-fighting game for two or four players. Each hero is represented by a unique deck designed to evoke their style and legend. Unmatched: Houdini vs. The Genie adds two new heroes: Harry Houdini and The Genie of the Lamp.
| | | |
| --- | --- | --- |
| Code | Description | MSRP |
| DMGSB001 | Songbirds | $20.00 |
| DMGVCK101 | Valeria Card Kingdoms 2nd Edition | $35.00 |
| DMGVCK110 | Valeria: Card Kingdoms – Flames & Frost Expansion | $25.00 |
| DMGVCK130 | Valeria: Card Kingdoms – Crimson Seas Expansion | $35.00 |
| DMGSHK001 | Shadow Kingdoms of Valeria | $60.00 |
| DMGSHK002 | Shadow Kingdoms of Valeria: Rise of Titans | $25.00 |
| GGDKC01 | Holiday Hijinx: The Kringle Caper | $9.99 |
| QWSADC103 | Advent Dice Calendar #03 | $50.00 |
| SJG3936 | Munchkin Gift Pack | $34.95 |
| SJG4223 | Munchkin Tails of the Season | $6.95 |
| TFC16000 | Christmas Lights Card Game 2e | $12.99 |
| TRC21000 | Kohaku 2nd Edition | $34.99 |
| TFC23000 | Holly Jolly | $12.99 |
Pre-order with your PHD Account Manager today!