Modeled after 2020's My City, My Island is a competitive legacy game in which you develop your own unique island from connected hexagons.
Over the course of 24 games, you will experience the history of your island and discover its secrets, with each of the individual games featuring new rules and game materials with which you will permanently change your island.
Lord of the Rings: Adventure to Mount Doom
In The Lord of the Rings: Adventure to Mount Doom, players follow the story of Frodo's perilous journey to destroy the One Ring in the fires of Mount Doom. He is accompanied by his familiar fellowship, who are charged with protecting him from the dangers he will face along the way. The players control the fortunes of this company together by moving the individual figures across the game board on a journey through many well-known places from the beloved Lord of the Rings novels. It is important to beware of the Nazgul while at the same time making sure that Frodo does not lose his confidence and freeze in despair. When Frodo reaches Mount Doom, the players have all won together.
The Lord of the Rings: Adventure to Mount Doom
Publisher: Thames & Kosmos
Item Code: TAK682804
MSRP: $29.95
Releases July 2023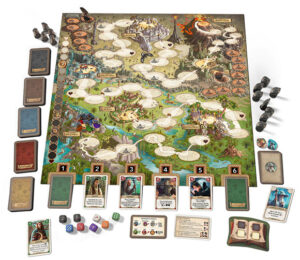 The movement of the characters is controlled by a special dice mechanism. Colored dice determine which figure can be moved. Your dice value determines the number of spaces a figure can travel. By choosing the dice before and after the roll, players are faced with decisions that are seemingly uncomplicated, but nevertheless significant for the outcome of the game. Black dice, which always must be rolled, trigger threats or cause encounters with enemies or friends. The encounter cards ensure the continuous, ever-growing threat to completing the quest. As in most cooperative games, players must coordinate their moves and actions with each other to ensure the desired outcome.
EXIT: The Disappearance of Sherlock Holmes
Sherlock Holmes needs help! The famous detective is said to have murdered the writer Ignatius Loyde and had to go into hiding. How did he become the prime suspect in this murder case? And what role does Moriarty play? Players support Dr. Watson, looking for evidence, in this Exit: The Game. They follow tracks together and approach riddle after riddle of the solution. Will they be able to solve the case?
EXIT: The Disappearance of Sherlock Holmes
Publisher: Thames & Kosmos
Item Code: TAK692866
MSRP: $17.95
Releases July 2023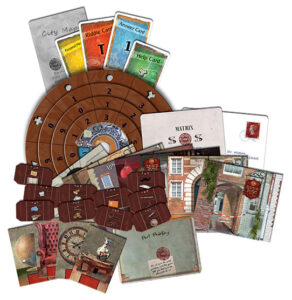 Exit: The Game – The Disappearance of Sherlock Holmes is a puzzle game modeled after escape rooms, and it includes components meant to be folded, written upon, or torn, so it's marketed as a single-use game. In the game, players need to support Dr. Watson and look for evidence to prove Holmes's innocence.
You are a team of newbie astronauts sent on an actual mission in an actual spaceship in actual outer space! Exciting, right? It would be…if any of you actually knew what you were doing. Would have been nice to have at least one experienced pilot on board, but now that you're here, you'll just have to figure it out as you go along.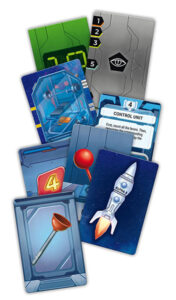 In Noobs in Space, the team of must complete a series of tasks and challenges together, using what little knowledge you have. Not all hope is lost because each of you has a small part of the solution; you just need to figure out how to put it all together. While one player may know the task at hand but not have the resources to implement it, those resources may be shared among three other players. They, on the other hand, do not know what is necessary based on the information they have.
Since players cannot show cards to each other, there must be a lot of clear communication and interaction by describing or reading out cards in order to gradually find out what should be done—and all of this must be done as quickly as possible. The story leads through several levels, and each level consists of several tasks, so the whole game is an action-packed event from beginning to end.
Pre-order with your PHD Account Manager today!