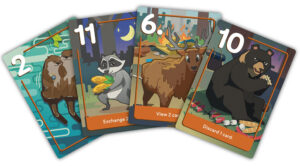 After hiking a local trail, you and your partner have returned to a campsite completely ransacked by pesky critters! Each animal has a different card value and many have a special action. Be careful, as there may be critters who are still hiding and waiting for the right moment to present themselves! Call out, "Scram!" when you think your team has the fewest animals in your campsite; but will your team be able to toss out the troublesome trespassers before your neighbors?
Shadowrun: Cyber Deck
Publisher: Catalyst Game Labs
Item Code: CAT28514
MSRP: $14.99
Releases August 9, 2023
What does your body need? A boost of speed? A new look? Different ways of seeing the world? All these options and more are in this deck, which provides basic game information for augmentations taken from Body Shop. Grab this reference for easy tracking of essential gear! The Cyber Deck is for use with Shadowrun, Sixth World.
Taco Cat 2023 FIFA Women's World Cup Edition
Although the gameplay is the same as Taco Cat Goat Cheese Pizza, this version has unique actions cards (yellow card, goal and Whistle) with unique gestures.
Taco Cat Goat Cheese Pizza: 2023 FIFA Women's World Cup Edition
Publisher: Dolphin Hat Games
Item Code: DHTCGCPFIFA
MSRP: $9.99
Releases August 9, 2023
Taco Cat Goat Cheese Pizza is filled to the brim with hand-slapping mayhem! Each player places a card from their hand face up into a community pile while saying taco/cat/goat/cheese/pizza in player sequence. When the card matches the mantra—boom!—everyone slaps their hand on the deck, with the last one to slap picking up the cards. Whoever rids themselves of cards first wins!
Holiday Hijinks #7: The Turkey Trial
The Turkey Trial, title #7 in the Holiday Hijinks line, is an escape-room-style game in just 18 cards! As a group, you will solve a series of puzzles to unravel a mystery. When you have solved a puzzle, you will enter the answer into the companion web app (compatible with all smart phones and computers), and it will check whether you are correct. If you are, the app will tell you which card or cards to take next.
Holiday Hijinks #7: The Turkey Trial
Publisher: Grand Gamers Guild
Item Code: GGDHH07
MSRP: $9.99
Releases August 9, 2023
The app also contains a graduated hint system, so if you get stuck, you can get just a small hint about the current puzzle to get moving again without giving too much away. Puzzles may test your perception, wordplay, and lateral thinking. English language fluency is required. Knowledge of traditional Thanksgiving topics is helpful, but that information is also provided in the app if you need it.
Most groups take about an hour to solve the game. You can write on the cards to help solve puzzles, but this is not required (or you could use penny sleeves), and the game is otherwise non-destructible. So while you can't play again yourself, you could give the used game to someone else to play.
This table topper is a double-sided neoprene mat with stitched edging measuring in at a whopping 2 ft. × 3 ft. You can use the side specific to Caper, which includes the Caper boards and indicators for cards and your stash of stolen goods. Then, when you're ready for some Campy Creatures, flip that puppy over and you're mortal hunting casino style!
Big Book of Battle Mats: Rooms, Vaults & Chambers
It features maps of fantasy interiors. Taverns, dungeons, vaults, chambers, banks and hideouts, there is the map for any adventure in a handy book! Perfect for one-shot adventures and heists, these imagination-inspiring maps are ready to roll. Use each page individually, open the book flat to see two complementary room maps, or align with your existing terrain to create a destination. The possibilities are almost endless!
Big Book of Battle Mats: Rooms, Vaults, & Chambers
Publisher: Loke Battle Mats
Item Code: LBM042
MSRP: $26.99
Releases August 9, 2023
The wet/dry-marker-safe maps are presented in a handy lay-flat book which fits in your bag and on your shelf. A great time saver, no need to draw maps pre- and mid-game, this book is perfect as an adventure inspiring tool. It's helpful for planning tactical RPG encounters and even entire adventures!
Old Gods of Appalachia Roleplaying Game
Old Gods of Appalachia Roleplaying Game
Publisher: Monte Cook Games
Item Code: MCG336
MSRP: $69.99
Releases August 9, 2023
This item cannot be sold to third-party Amazon sellers.
Gather round, family. Long before anything human roamed the Earth, the Appalachians towered tall and menacing. The mountains' might was made a prison and tomb for beings of immeasurable malice and incomprehensible madness. A place to hold them; to keep them, perhaps forever, from dimming the light above. But time shows no mercy, not even to mountains, and now they lay bare and worn like an old man's spine. The walls of the prison grow thin, and those that have slumbered soundlessly for millennia begin to stir. And they call to those who would hear them.
Old Gods of Appalachia RPG: Player's Guide
Publisher: Monte Cook Games
Item Code: MCG445
MSRP: $19.99
Releases August 9, 2023
This item cannot be sold to third-party Amazon sellers.

Create characters, explore Alternate Appalachia, and access the easy to- learn Cypher System rules that power the Old Gods of Appalachia Roleplaying Game. This handy Player's Guide provides an easy, inexpensive way to have multiple copies of the game's most important player-facing content at the game table.
Freelancers: A Crossroads Game
Congratulations! Humanity is dead! The bad news is that all they left behind is their garbage and a broken gig economy. That's why we need freelancers like you who are ready to take any job, no matter how loathsome. As a freelancer, you will delve into ruins, brave the wilds, and slay the hordes of hideous creatures that litter the dark forgotten corners of the world. All so you can gather loot and return home, ready to blow it all and start over again the next day. It's a lousy gig, so it's perfect for the likes of you.
Freelancers: A Crossroads Game
Publisher: Plaid Hat Games
Item Code: PHG3800
MSRP: $59.95
Releases August 3, 2023
Freelancers: A Crossroads Game condenses the fantasy RPG campaign experience into a single night of fun and mayhem. Create a character, roll funky dice, and blaze your way through multiple stories set in a world of magic, monsters, and murder. Better yet, no game master is required, as a magical companion app does all the storytelling for you! Immerse yourself in fully-voiced, industry-leading audio as you play. Explore hundreds of branching paths in five highly replayable campaigns. Mix and match a multitude of species and jobs to build your own unique character. Pick up and play, simple rules, low commitment and no prep.
If you are a dog lover, or not, then these are your dice. Add some puppy love to your roleplaying game with numbers, fur and four paws. Contents: 1 Rounded d4, 1d6, 1d8, 1d10, 1d12, and 1d20.
Whether at work, in the evenings, or over the weekend, "fika" is an integral part of Swedish life and is much more than just a coffee break. It's about making space in your daily life to chat over a hot drink, as you nibble delicious pastries.
In Fika, you are a street café owner trying to outearn your competitor by skillfully arranging the cards in your own café and manipulating those of your opponent so that you can be the first to win two rounds.
A game of outrageous bluffing, honest haggling, and crafty negotiation… It's Halloween! It's time to don your scariest costume and run through the neighborhood shouting, "Trick or Treat!" Collect costume and treat cards, and you're on your way to winning Halloween Party. But beware: Your opponents may play tricks on you!
Halloween Party
Publisher: Trick or Treat Studios
Item Code: TPQHPB01
MSRP: $9.95
Releases August 9, 2023
This item cannot be sold to third-party Amazon sellers.
Tricks & Treats
Publisher: Trick or Treat Studios
Item Code: TPQTTB01
MSRP: $9.95
Releases August 9, 2023
This item cannot be sold to third-party Amazon sellers.
In this fast and fun game of bluffing, you must divvy up your Halloween candy fairly—or at least, make it seem like it's split fairly. If someone else can guess which bucket is yours, you'll be forced to give up your entire haul!
Hunger, Hatred, Domination, Oblivion, and Ruin… The world is dying, poised on the brink of falling to one of these great dooms. Factions pursue their own interests, as likely to be the heralds of the world's destruction as they are its saviors. Horrors—monstrous abominations that defy logic, science, and nature—roam the land. Bands of hunters follow bold leaders, seeking out and destroying Horrors, gaining fame as word of their deeds spreads amongst the desperate survivors. Rival bands compete for prestige, clash over ideology, and pose as much of a threat to each other as the Horrors they hunt.
The Doomed is a quick-playing, rules-light skirmish wargame in which small warbands of hunters compete to hunt unique Horrors in a bleak sci-fi world. Scenarios are defined by the Horror being hunted and by the Conflict in which the hunt takes place. Each Horror has its own strengths, weaknesses, and tactics, often breaking the rules in unique ways, and must be approached carefully—stealth, cunning, and brute force will all have a role to play.
Each Conflict, meanwhile, provides a distinct setup for the scenario and a secondary objective that pits the warbands against each other as well as against the Horror. Campaigns build towards a climax, with hunters gaining prestige and renown, offering access to new, unique options for their warband. In the background, the five dooms also grow in power, threatening to deliver their own climax to the campaign if the hunters are not successful enough.
Pre-order with your PHD Account Manager today!