The great pharaoh Mino is dead, and the throne falls to his eldest son: pharaoh Mido. Mido, dissatisfied with the simplistic appearance of the pyramid in which his father was buried, is concerned about is own legacy. He wants his tomb to reflect his majesty perfectly and has decreed that architects must build jewel-encrusted pyramids. In Pyramido, the multi-level scoring game, players try to build the most impressive pyramid possible. The pyramid will be composed of 20 Dominoes distributed on 4 stages.
During the game, players must build a pyramid and place Jewel markers on it. When a stage is completed, it will be evaluated, and prestige points will be awarded to the architects. During their turn, the architect must choose and place a Domino on their pyramid and, if possible, mark the Domino by placing a Jewel marker on it. Once the stage is completed, it will be evaluated, and prestige points will be awarded. Once the pyramids are completed, the architect with the most prestige points wins the game.
90 Unique Dominoes
12 Resurfacing cards
24 Jewel markers
Somewhere, deep in the underworld, not far from the Styx and Elysian Fields, bellhops are preparing themselves to knock on their guest's doors. And yes, they are scared. In Hellton Palace, both players are managing a hotel, hiring bellhops to address their guest needs. But in the end, they know the place is going to collapse at some point… Try to outlast your opponent! 
An unsatisfied customer would penalize your reputation, but a too enthusiastic legendary creature or god can literally break the pillars supporting the building! Twist your habit by having a new goal: Losing last!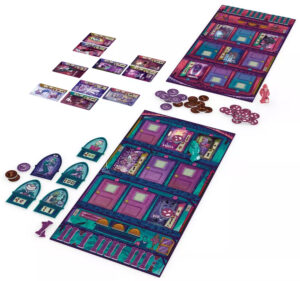 On your turn, welcome a guest in one of the available rooms in the matching row; dismiss your bellhops by flipping their tile to their "break" side; hire new ones by paying the cost with your hard-earned money; and move your Bellhop pawn from room #1 to #9. When they reach an empty room, ignore it and move on to the next one. When they reach an occupied room, choose whether to serve the Guest or not.
Serving a Guest removes their irritation token and makes them satisfied, which allows you to apply the effects on their door hanger. If you decide not to serve the Guest, place an Irritation token on them except if they have one already. In this case, remove it with a Bell token. In this case, remove all irritation token and lose one bell token.
Finally, choose between collecting coins (of all satisfied guests/all guests without irritation token) and gaining a Bell token back. There are two ways of ending the game: a player has no bell token left or a player has a column with no pillar token left.
In Allegra, based on the public card game Golf, you want to keep your score as low as possible, but to do this , you must sometimes help your neighbors along the way. The deck consists of cards numbered -1 to 11, and in each of the three rounds, each player starts with twelve cards face down in a grid of four columns and three rows. Your rightmost column is also considered to belong to your right-hand neighbor, and likewise, your area includes the rightmost column of your left-hand neighbor. Each player reveals any two cards in their area, and then the round begins.
On a turn, you either draw the top card of the deck and reveal it or draw the top card of the discard pile. If you draw from the discard pile, swap that card with any card in your area and then discard the replaced card. If you draw from the deck, you can discard that card (turning any card in your area face up) or you can swap that card with any card in your area.
If you draw from the deck, any other player can knock on the table to indicate that they want this card. You can ignore the knock, or you can give them the card; in the latter case, they then replace one card in their area with this new card, taking the old card in their hand. You then take any one card in their area and swap it for a card in your area, discarding the replaced card. The other player then places the card in their hand into the hole you created when you took one of their cards.
Any time you have three identical cards in a row or column—even a row that includes a card in your left neighbor's rightmost column!—you discard those cards from play. Whenever one player has all their cards face up, each other player takes one more turn, and then players sum the value of the cards in their area (which includes any cards remaining their neighbor's rightmost column). If the player who triggered the end of the round doesn't have the lowest sum, their sum is doubled. The player with the lowest total score after three rounds wins.
The goal is to get rid of all your cards—or to make all the other players abandon ("drop their hoop"). Each player starts with five cards in hand, plus five open cards in front of them. When it is their turn, a player can choose to play one of their open cards or one from their hand.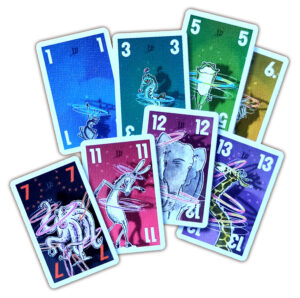 The first player plays any card and asks the next player to play "higher" or "lower." A player may either follow this request or "double down"—playing the same card as the player ahead of them. Then, everyone must double (or break the double) with a neighboring card or a joker. A player who cannot play drops their hoop and is eliminated from the round. When there is only one player left, or when a player has got rid of all their cards, they receive as many cards as they played during this turn. The first player to reach 77 points wins the game.
Tales from the Loop: They Grow Up So Fast
Tales from the Loop: They Grow Up So Fast
Publisher: Free League Publishing
Item Code: FLFTAL025
MSRP: $33.99
Releases September 1, 2023
In this hardback campaign book for the Tales from the Loop RPG, in which four adventures form a campaign spanning the seasons of a year, the Kids will be tested to the limits of their abilities. When an ordinary camping trip turns into something else, they will discover that friends come in all sizes and forms—even from different worlds.
Pre-order with your PHD Account Manager today!