After journeying the Tokaido road, it is now time to discover the island of Shikoku in Tokaido Duo! In Tokaido Duo, two players pace the smallest isle of the Japanese archipelago. You will discover its many sceneries through the eyes of three different characters, and will thus experience a threefold spiritual journey.
As the Pilgrim, you will visit temples, forests, seashores and hot springs.
As the merchant, you will craft and sell handmade wares.
As the artist, you will paint a variety of beautiful sceneries, and gift them to passers-by.
You will earn points through all three characters' adventures as you slowly become one with their endeavors.
Last Light is a fast-paced 4X game with 3D planets and a rotating board in which players playing asymmetrical alien factions simultaneously gather light right before the heat death of the universe.
Each turn, players select an action card; then, all players take their actions simultaneously, exploring planets, mining for resources, gaining new technologies, and commanding fleets all while racing to the center of a rotating board to the last known white-dwarf star to gather light for their civilization to survive. The first player to gather 20 light has what they need to overcome their rivals and lay claim to the last light in the universe and win!
A newly minted class of drivers is ready for their first show. Get behind the wheel of one of the iconic trucks in the Bigfoot family, and show your stuff. The Original Monster Truck, Bigfoot #1, smashes through cars and trucks; Bigfoot Racer soars effortlessly over obstacles; Fastrax tears through mud; and the sinister Snake Bite destroys everything in its path. Watch out for hazards and do a donut or five. Plan, roll, and smash as the crowd goes wild!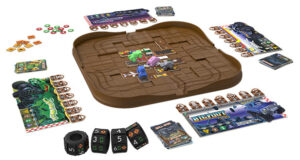 In this competitive programming and press-your-luck game, roll specialized monster tire dice to earn action points, style cards, and hazards. Program your monster truck's path of destruction and use bonus cards to enhance your run, while your opponents place hazards to get in your way. Earn victory points as you jump, drive, splash, and SMASH your way through the arena!
After the first round, you'll add new obstacles for an even more smashtastic course. At the end of two rounds, the driver that impressed the crowd the most (a.k.a. earned the most victory points) is the winner. (Note: Bigfoot: Roll & Smash is not responsible for any collateral damage caused by excess smashing. Please SMASH responsibly.)
Dreams and Machines: Player's Guide
Dreams and Machines is a brand new RPG setting where people come together to rebuild their world following a catastrophic war. You will venture into a world of mystery and adventure, a world where slumbering mechs dot the landscape and people build their lives anew in the wreckage of paradise. Take on the role of one of the new tribes of humanity—an Archivist, Dreamer, Everan, River, or Spear—and forge a path for yourself and your people.
Dreams and Machines: Player's Guide
Publisher: Modiphius Entertainment
Item Code: MUH1140101
MSRP: $45
Releases November 17, 2023
See below for the Gamemaster's Guide, Collector's Slipcase Edition, GM's Toolkit, and Dice Set.
The war against the machines was 200 years ago, but many threats from that era abound, along with others, like raiding parties of Thralls from the deep ruins, that have arisen in the intervening years. The machines are dormant, but they sometimes awake, causing death and destruction until they are stopped. Hideous, mutated, creatures infest the landscape, vicious byproducts of the war. Ghostly nanograms lurk in the ruins promising knowledge or luring the unwary to their deaths.
Yet against all this, humanity is rebuilding. People live full, happy lives despite the threats that assail them. Cooperation and mutual aid are everywhere, humans coming together to build something new amid the ruins of the past. Dreams and machines collide in a far future where its people come together to rebuild their world. The ultimate tale of hope and heroism in the shadow of the Wakers. As the danger grows and the world is under threat once more, do you dare to dream?
More November 17 Releases
| | | |
| --- | --- | --- |
| Code | Description | MSRP |
| FNFTKD10US01 | Tokaido: 10th Anniversary | $34.99 |
| FNFDONUS01 | Donuts | $24.99 |
| SFG064 | Red Dragon Inn 9: The Undercity | $39.95 |
| GTGSISLNINC | Spirit Island: Nature Incarnate | $59.99 |
| GTGSISLFLNI | Spirit Island: Nature Incarnate, Foil Panels | $2.99 |
| SYNBRX01 | Bruxelles 1893: Belle Epoque | $69.99 |
| GFG06401 | Last Light: Infinity Deluxe Expansion | $59.99 |
| GKGTINYSN108 | 7-Die Set: Mighty Tiny Dice- Lava Rocks | $14.95 |
| EVL09000 | Everyday Heroes, The RPG: Rambo Cinematic Adventure | $24.99 |
| EVL08000 | Everyday Heroes, The RPG: Universal Soldier Cinematic Adventure | $24.99 |
| MUH1140102 | Dreams And Machines: Gamemasters Guide | $45.00 |
| MUH1140103 | Dreams And Machines: Collectors Slipcase Edition | $130.00 |
| MUH1140104 | Dreams And Machines: GM's Toolkit | $40.00 |
| MUH1140106 | Dreams And Machines: Dice Set | $18.00 |
| MUHDMIFE2RULE | Fragged Empire, 2e: Rule Book | $55.00 |
| MUHDMIFE2ADV1 | Fragged Empire, 2e: Adventure- Eat Cake | $9.00 |
| MUHDMIFE2ADV2 | Fragged Empire, 2e: Adventure- Magician's Choice | $9.00 |
| MUHDMIFE2LOC | Fragged Empire, 2e: Location Guide | $50.00 |
| MUHDMIFE2SET | Fragged Empire, 2e: Setting Guide | $55.00 |
| MUHDMIFE2ARCH | Fragged Empire, 2e: Supplement- Archetypes | $9.00 |
| MUH0190026 | Fallout Wasteland Warfare- Raiders- Overlords | $30.00 |
| MUH0580205 | Fallout RPG: Settler's Guide Book | $35.00 |
| MUH0010321 | Achtung! Cthulhu 2d20: Mission Dossier 2- The Dark Beyond | $32.00 |
| PELGY12 | Yellow King RPG: Legions of Carcosa | $39.95 |
| PELGT48 | Trail of Cthulhu: Cluebook | $6.95 |
| PELGT46 | Trail of Cthulhu: The Book of the New Jerusalem | $24.95 |
| PELGY15 | Fifth Imperative | $16.95 |
| PELGT45 | Trail of Cthulhu: Fearful Symmetries | $39.95 |
| PELGOC09 | Cthulhu Confidential RPG: Even Death Can Die | $49.95 |
| PELGY11 | Yellow King RPG: Black Star Magic | $34.95 |
Pre-order with your PHD Account Manager today!