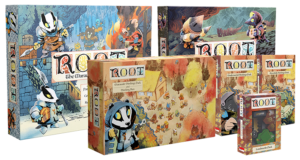 Fans of Root won't want to miss the new expansions including Marauders and Hirelings, also coming from Leder Games this September! Check out our full Root expansions article to learn more.
In Ahoy, players will be swashbucklers and soldiers seeking fame on the high seas. As you play, you'll make a unique map full of treasure troves, dangerous wreckage, and mighty sea currents, using deluxe, double-layer region tiles.
Play as the…
Bluefin Squadron, a company of sharks and their toothy friends, who keep order with shot and sword.
Mollusk Union, an alliance of undersea creatures and their loyal comrades, who fight to reclaim their home.
Smugglers, maverick captains who run blockades to deliver cargo to those with the most need—or coin.
Pre-order with your PHD Account Manager today!