Choose fan-favorite Disney characters and combine their powers to take over Bases, earn the most Victory Points, and win! Choose from Frozen, Big Hero 6, Wreck-It Ralph, The Lion King, Mulan, Aladdin, The Nightmare Before Christmas, and Beauty & the Beast to create the most exciting team-ups imaginable!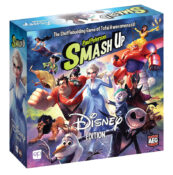 Smash Up: Disney Edition
Publisher: The Op
Item Code: USOSM004000
MSRP: $34.99
Releases July 2022
There are 64 deck combinations from Smash Up: Disney Edition in addition to compatibility with previous expansions, providing endless replayability.
Pre-order with your PHD Account Manager today!