Gloomhaven Puzzle: The Black Barrow (1,000pc)
Your job was easy: infiltrate the Black Barrow hideout and recover Jeksarah's stolen scrolls. Little did you know that crypts overflowing with bandits and living corpses were the least of the dangers that awaited you on your adventure through Gloomhaven.
Players: 1–4 • Ages: 13+ • Play time: 10–20 min.
Assume the role of one of Earth's most powerful Heroines as you settle their disputes with each other through excessive firepower! Use your actions to form Patterns, clear your board of bullets, and assault the opponent! Keep up dealing with the curtain of bullets coming at you each round, and be the last Heroine standing to win!
Each Heroine wields a different power that changes how you experience the game! There are four game modes! Do a solo run in Score Attack; have a Free-For-All with 2–4 players; form two-player Teams for battle; or fight each Heroine's dangerous Boss Mode by yourself or cooperatively!
Players: 1–4 • Ages: 8+ • Play time: 10–20 min.
It's an instant dungeon with infinite possibilities! Gather your gear, and prepare to dive into the labyrinth! Teeming with untold treasure, the tunnels are said to be inhabited by unusual creatures, both adorable and terrible. Keep your wits about you as the very walls shift in the torchlight…it's time to drop into the dungeon!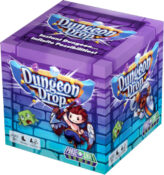 Dungeon Drop
Publisher: Phase Shift Games
Item Code: PSG101
MSRP: $19.99
Releases May 4, 2021
Dungeon Drop is a lightweight dungeon crawler for 1–4 players, featuring a novel spatial element that assures no two games could possibly be the same. At the start of each game, cubes of varying colors, which represent both loot and monsters in the dungeon, are dropped onto the table from a height of 6 to 12 inches. This creates a dungeon layout with infinite possibilities. You then use your customized hero to explore the dungeon, use your unique abilities, and ultimately loot a room that won't kill you!
This 28-page standalone RPG was adventure built for the DCC or MCC RPG—but usable in any system. This is a 1st/2nd-level, sandbox-style adventure. The ultimate futuristic vacation theme park was equipped with a temporal field. After weeks (or months) at the resort, you could reenter your life the moment you left for vacation and never miss a day's work. But neglect of its systems throws the entire park into distant pasts and futures.
This MCC or DCC adventure begins as the PCs stumble upon a strange "village" that mysteriously appears overnight. Getting into Eastwood is simple, but surviving its madness and escaping proves to be a deadly challenge.  
| | | |
| --- | --- | --- |
| Title | SKU | MSRP |
| Trickerion  | APE2500 | $60.00 |
| Trickerion: Dahlgaard's Gifts | APE2501 | $20.00 |
| Red Dragon Inn | SFG004 | $37.95 |
| Red Dragon Inn 2 | SFG007 | $37.95 |
| Red Dragon Inn: Allies — Adonis vs. the Lich King | SFG027 | $24.95 |
Pre-order with your PHD Account Manager today!